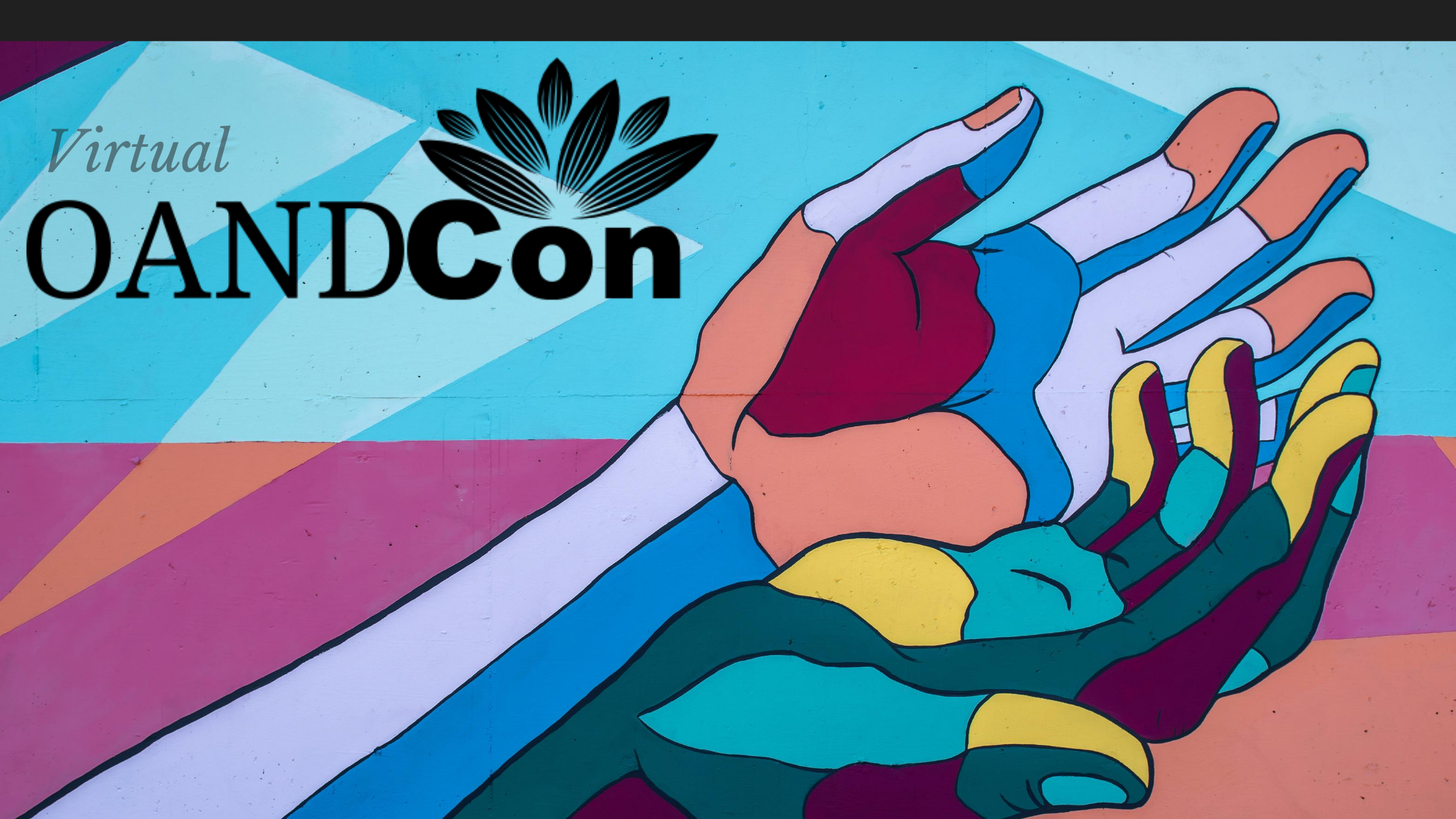 OANDCon 2020: Virtual Event
September 26 2020
Details
Welcome to our first Virtual OANDCon.
We have transformed our original three day in-person event to three separate Saturdays this Fall, with  bonus nights of some of your favourite keynote speakers. Each convention day will have around 4.5 Cateogry A CE Credits, and will include some sponsor fun as well so you don't miss out on some of our valued corporate partners and past exhibitors of ours.
We have partnered with EndoANP for our November 14th convention day.

Registration
Registration will be done online with our third party application. To the left of this page, click on "CLICK HERE TO REGISTER". You will be redirected to a new site to select your convention days and proceed with payment. You can register for all three days including keynote speaker nights or you can register for each day and each speaker night individually.
Hotel Accommodations
The comfort of your own home!
| Date & Time | Session |
| --- | --- |
| Digestive Health Day: Saturday, September 26, 2020 | |
| 10:50 AM - 11:00 AM | Welcome/Intro |
| 11:00 AM - 12:30 PM | Probiotics as Proxies for the Microbiome: Just How Effective Are They? (Dr. Nigel Plummer, PhD) Sponsored by: Genestra |
| 12:30 PM - 1:00 PM | Commercial Break |
| 1:00 PM - 2:30 PM | Constipation: Better Out Than In (Dr. Kim Bretz, ND) Sponsored by: Designs for Health |
| 2:30 PM - 3:00 PM | Commercial Break |
| 3:00 PM - 4:30 PM | Mushrooms and Modulation: Gut-Immune Signaling (Germano Angelini, MS) Sponsored by: TallGrass Health |
| | |
| Hormone Health Day: Saturday, October 17, 2020 | |
| 10:50 AM - 11:00 AM | Welcome/Intro |
| 11:00 AM - 12:30 PM | Endocrine Disruptors in Hormonal Health and Fertility (Dr. Jodie Peacock, ND) Sponsored by: NFH |
| 12:30 PM - 1:00 PM | Commercial Break |
| 1:00 PM - 2:30 PM | Insulin Resistance and Women's Health: The Silent Epidemic (Dr. Sarah Wilson, ND) Sponsored by: Rocky Mountain Analytical |
| 2:30 PM - 3:00 PM | Commercial Break |
| 3:00 PM - 4:30 PM | Simple Labs for Complex Hormone Cases (Dr. Carissa Doherty, ND) Sponsored by: NFH |
| | |
| Practical Prescribing Day: Saturday, November 14, 2020 | |
| 10:50 AM - 11:00 AM | Welcome/Intro |
| 11:00 AM - 12:00 PM | Bioidentical Hormone Prescribing in Perimenopause with Dr. Amy Tung, ND |
| 12:00 PM - 1:00 PM | PCOS Prescribing and Natural Therapeutics with Dr. Fiona McCulloch, ND |
| 1:00 PM - 1:30 PM | Commercial Break |
| 1:30 PM - 2:30 PM | The Ins and Outs of Fertility Hormones with Dr. Aumatma Simmons, ND |
| 2:30 PM - 3:30 PM | Combination Thyroid Replacement Prescribing Strategies with Dr. Alan Christianson, NMD |
| 3:30 PM - 4:00 PM | Commercial Break |
| 4:00 PM - 5:00 PM | From the Brain to the Mitochondria: Reigniting the HPA Axis Flame with Dr. Carrie Jones, ND, FABNE, MPH, Sponsored by In-Common Laboratories |
| | |
| Keynote 1: Thursday, October 15, 2020 | |
| 7:00 PM - 8:30 PM | Connecting the Dots: Chronic Disease, SIBO and the Intestinal Barrier (Dr. Gaetano Morello, ND) Sponsored by: BioClinic |
| | |
| Keynote 2: Thursday, November 12, 2020 | |
| 7:00 PM - 8:30 PM | Dene Ch'anié - Indigenous Planetary Health (Dr. Nicole Redvers, ND, MPHc) |